Palmer Station Virtual Tour
---
Biolab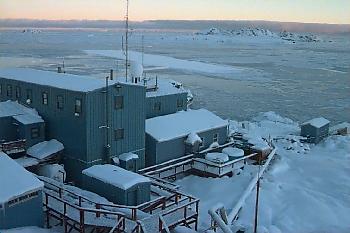 Biolab is one of the two main buildings at Palmer Station, and serves several roles.
Biolab contains berthing, laboratories, the kitchen, a lounge, the aquarium, the backup generator, satellite and radio communications, and offices like mine.
---
Berthing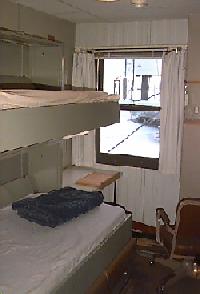 Biolab sleeps 22 people in some pretty tight quarters. The average room measures 10 ft. long by 6.5 ft. wide. This is about the size of a normal bathroom back home. The top bunks are very narrow at only 23 inches wide, but can fold away up to the wall. Two people share this small space.
---
Kitchen
It's amazing how much of life revolves around food. So, much of our lives is focused on the kitchen and the cook. Alex, our winter cook prepares two meals a day six days a week. If we are in the mood for something that she didn't fix, or on Sundays, we can just cook our own food. The food is really pretty good so usually I don't bother, but this is one of the big differences between Palmer and McMurdo. At McMurdo once the meal is done, we are kicked out of the galley, and we can't just go grab something to snack on whenever we are hungry. But a smaller size allows Palmer to be a little more like home.

---
Laboratories
The whole reason we are in antarctica is to pursue science. And the grantees do it here. In cramped laboratories, researchers from all fields investigate and test their hypothesis. Laboratory equipment, like these spectrophotometers, are down here in the labs so that analysis can be done here, on the Ice. Many countries programs will send their samples back to their labs at home to run them. The way that the United States runs their programs has several distinct advantages.
1) Our researchers are able to get real time data. If they find out mid season that they need to change the way they sample, or an especially interesting event is happening, they can change their sampling to take advantage of this. Other countries researches may find out months later that they should have been doing something differently, and possibly wasted a whole year of research.
2) Samples being returned to home institutions may be compromised in transit. Samples may not be kept frozen, bottles can break, customs officials may open them, thus contaminating them. A whole year's worth of research can be lost this way as well.
There are always disadvantages too. The instruments cost money. They are not cheap to buy in the first place, but then you have to ship them halfway around the world. And occasionally, they will get damaged in transit.
You have to stock a lot of spare parts for each instrument. It would take you a minimum of five days to leave the states and get to Palmer Station. If you have to bring a service engineer down, you will end up paying for at least 12 days and only get a days work done for the cost. But in the long run I think that it is worth it.


---
Aquaria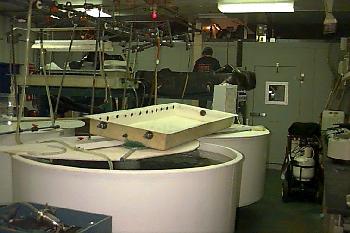 Because most of the research done at Palmer Station focuses on the ocean, we have a large aquaria so that the researches can keep their organisms close at hand. The Aquarium building contains four large tanks, four cascade tanks, and two cold rooms. Outside there are an additional five large tanks and space for cascade tanks. You can see two of the large outside tanks on the picture at the top of this page. All aquaria are fed with either filtered or unfiltered sea water at the same temperature as in Arthur Harbor.

---
Hot Tub (64°46.448 South/ 64°03.249 West)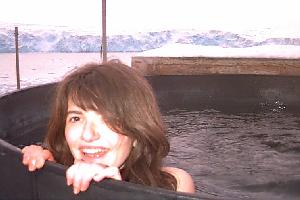 Did you think that we were uncivilized just because we are so far away? Of course we have a Hot Tub. I mean, what if the Sauna were to break? Here is Sandra, an Italian researcher down here with S-037 (Studying fish), relaxing after doing a little swimming. The ocean water temperature is around -1°C (30°F) Soaking in the warm water staring up at the stars or just watching the snow fall is a wonderful experience. Especially when the glacier is calving and making sounds like thunder.

---
All Trades Shop
The all trades shop (formerly the carp. shop) is where the trades men such as carpenters work. We are very fortunate to be able to use the tools in our spare time on our own projects. Bob, our doctor (pictured here), is quite the craftsman. He had made a wonderful oak tool chest on wheels, and has really made the all trades shop a pleasure to work in. Way to go Bob!

---
Milvans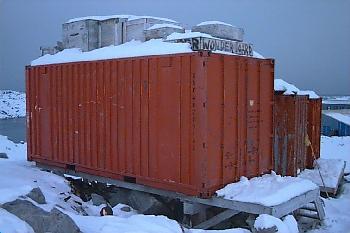 What the Heck is a Milvan anyway? Well, they are just big metal cargo boxes designed to fit on big cargo ships. These were originally designed by the military (Military Cargo Vans) Hence Milvan. They are easily modified for a host of needs. They can have heaters, freezers, lights inside, or even converted into a portable laboratory with running water and fumehoods. Mostly they are simply lined with shelves and used for storage. Doing inventory of small items in sub zero weather in a metal box isn't a lot of fun. I have a little experience in that area.

---
Fuel Tanks
Palmer Station has two large fuel tanks. We don't ever have them both completely full in case we have a large leak and need to pump all the fuel out of the tank. This provides all the fuel to generate electricity, heat, run the heavy equipment, etc. The fuel is off loaded from one of our research vessels once a year. I was the oil spill response coordinator this year, and fueling went without a hitch. Whew! Each tank hold 125,000 gallons of fuel.

---
GWR Garage Welfare and Recreation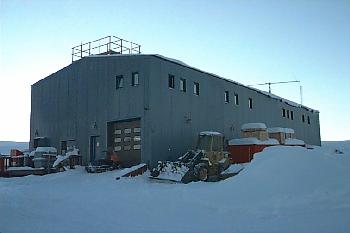 GWR is the second main building at Palmer Station and once again serves many roles.
Of course the garage where vehicles are maintained is located here, but there are many more aspects to GWR. You can find the power plant that provides electricity for the station, the Bar,Lounge, Gym, Hamshack, Store, and rooms like mine.

---
Garage
The garage is used for vehicle maintenance, welding, staging of cargo, laundry, and other misc. work. Not a lot of space for all that.

---
Power Plant
All the electricity used for heating, purification of water, lights, instruments, etc. Is generated here. Two large generators alternately run to supply the power needs of the Station. A backup generator is located in Biolab in case something unfortunate were to happen to the primary generators. When we are on "Sunday watch", we will check the status of the engines and the power output. By doing a Sunday watch on the station's day off, we hope to catch any problems while they are small.

---
The Bar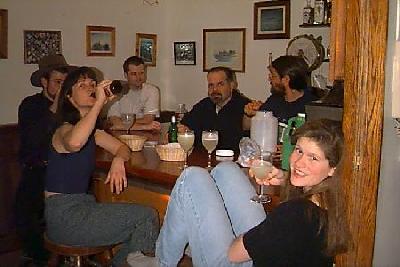 The Bar is a common gathering place evenings, weekends, and for many parties. The Palmer Bar is a little different than those at McMurdo. It's on a honor system. Someone will buy a bottle and share it, when it is gone someone else will buy the bottle. This is because the bar is too small to have a bartender serving and charging for individual drinks. Pisco (a South American liquor similar to Tequila) reigns supreme as well as "Prop Shots" (a flaming concoction taken from the prop cap from the wreckage of the Bahia Paraiso).

---
The Lounge
The lounge is also another favorite haunt of Palmerites. We lack TV and Radio like they have at McMurdo, so a rather extensive movie collection is our visual fix. And the pool table clicks from well placed shots. Fine tuned from practice with lots of time.

The lounge also serves as a library for personal books on station. There is a science research library in Biolab. Many people will bring books that they read on the flight down or on the crossing and leave them here for others to enjoy. And the lounge also serves as the dance floor for our parties and dances. Craiger has set up lights and a bubble machine that add the special touch that is uniquely Palmer.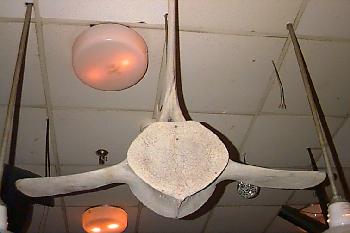 Another unique fixture to our lounge is a whale vertebra and a whale rib that hang here. These bones were collected from islands nearby and as they are not removed from the continent, don't break the Antarctic treaty.

---
The Ham Shack
This used to be the only way to communicate with the people back home. Ham radio is still used because of the high demand placed on the ATS3 satellite and the expense of the INMARSAT system ($10/min) for personal phone calls. The drawback, as with ATS3, is that anyone in the world can listen in on your conversation. The fun part is that you can also talk to people from all over the world, and Palmer is one of the places that many ham operators want to make on their list of places that they have talked to. Jaime spent two hours talking and had trouble selecting out individuals as there were so many people who wanted to talk.
And because some people have asked:
At Palmer station we are utilizing Kenwood transceivers for ham radio contacts.
There is a Kenwood TS-450S and TS-140S transceivers. These transceivers ouput are 100 Watts and drive a linear Kenwood amplifier TL-922A to a total power output of approx. 600 Watts. I have not calculated the E.R.P (effective radiated power) The antennas we are using at the moment are a Hy-Gain, 3 element beam tribander for 20, 15 and 10 meters, and a long wire. Normally, we operate on 20 meters. 14243 Mhz and 14170 Mhz.

---
The Gym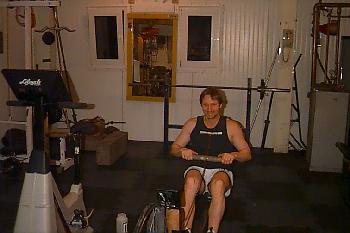 Keeping physically fit in Antarctica can be a bit of a challenge on the cold, windy, and snowy days. This is one of the reasons that we have a gym indoors. Two exercise bikes, a rowing machine, a nordic trac, and various weights are available as well as step aerobics and punching bags. Here Doctor Bob tries to beat the station record for rowing 5000m. Chris still holds the record that everyone else can only grasp at.

---
The Store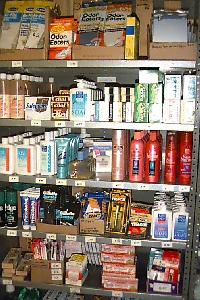 Hardly a mall, the only real shopping that is available is here in the store. Items such as soap, shampoo, and toothpaste are some of the necessities to be found. But there are host of different beverages, T-shirts, and other Palmer memorabilia to delight the Antarctic shopper (For about 5 min). There isn't a whole lot here, but then again, there really isn't much of a need, either. The doctor is also our "manky shopkeeper", just one of the additional duties of the doctor.

---
My Room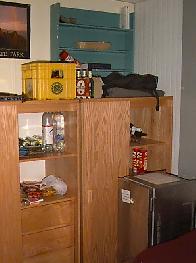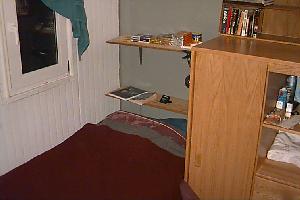 Rooms in GWR are a little bigger than those of Biolab, but they also hold more people. Room 412 where I live this winter is 10.5 ft by 11 ft. Three people share this space, having just a little less room per person than over in Biolab (If you include closet space)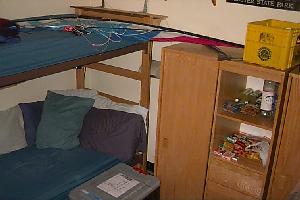 My Kite is usually drying out on the top bunk. It is a stunt kite that also has lights for flying at night.

---
Hazardous and Repeater
Self explanatory; hazardous is where we keep most of or industrial cleaners, paints, solvents, etc. The small hut in the background houses the repeater equipment for the VHF radios (Marine channel 27).

---
T-5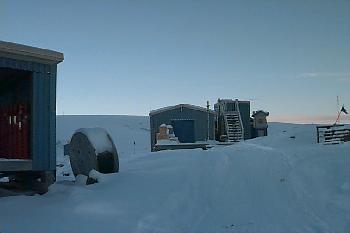 Kevin Bliss, our Science tech will tell you that the "real science" goes on here at T-5. Well, there certainly is some interesting science. I'll give him that. The experiments run at T-5 are more closely related to physics than to penguins. One of the science groups (S-106 Stanford University) studies lightning induced electron precipitation of the ionosphere. So what the heck is that? Well, their homepage will give you more in depth information. But the really cool thing is that lightning in other parts of the world cause whistle sounds in the VLF range. If you have a soundcard and software to play a .wav file,

here is an example of what "whistlers" sound like. The popping noises are individual lightning discharges.

---
The Pier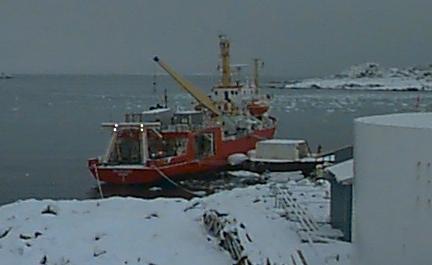 Here, the R/V Polar Duke is docked for the last time at Palmer Station. The little pier was originally designed for the wooden supply ship Hero. Although the Polar Duke was able to dock here, The new ships in the Antarctic Program, R/V Nathaniel B. Palmer (NBP) and the brand new R/V Laurence M. Gould (LMG) will have a much harder time here. In fact, the NBP cannot even dock here, and all transfers to the station have to be done by zodiac or over sea ice when the ice is thick enough to walk on.

---
Pump House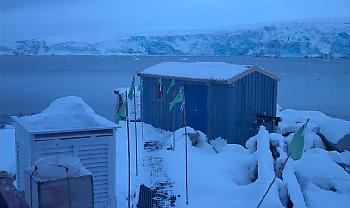 Most of our water is purified to fresh water from sea water through a process called reverse osmosis. Just below the pumphouse is where we take all our sea water from. In addition to purifying for general purposes, sea water is also needed for the aquaria and all of our toilets run on salt water. Also pictured here is the synoptic weather station.

---
The Trolley
The Trolley is one of the shortcuts to get over to Bonaparte Point. A boat or the glacier route also work. To cross the trolley, you have to:
1) sign out from station
2) wear a float coat or Mustang suit
3) radio when you are about to cross, and after you arrive.
Crossing is actually a lot of work. It really is nice to have a couple of people with you to help out. Unless, of course, they want to leave you stranded in the middle. So it is always a good idea to go first.


---
Go to:

Palmer Station Palmer area islands

Antarctic indexHome
Disclaimer

E-mail Marc at gentoo100@hotmail.com